JAKE IS COMING HOME TOMORROW - FRIDAY 3 JUNE!
Jun 02, 2011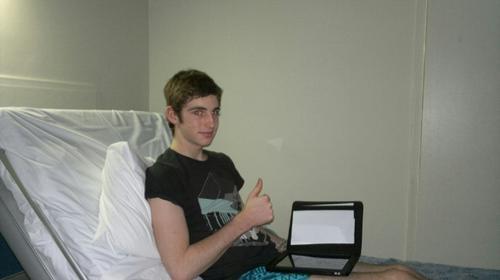 Hi everyone, I thought I'd give Pam and dad the day off from doing my report and I thought with All the free time I have I could do it.
So I'm still at the epworth rehabilitation centre. I've had my physio class this morning which involved running and balance drills to work on my balance, co ordination and reaction time as well as fitness now seeing that I'm doing really well in my activities. I've progressed really well over the weeks being here. The balance drills I'm doing would get me a job at the circus and my physio is amazed at what I am doing. After physio I received news by the doctor in charge of me here that I would be going home tomorrow morning because everyone that had worked with me was pleased with the progress and results I had achieved and thought I was more than safe to be living back at home After meeting Luke Hodge yesterday and hearing the news it's by far the best two days I've had since being here.
After receiving the news I had an interview with Herald Sun's Adrian Dunn and just sat back and relaxed until after lunch.This afternoon I had a hydrotherapy class which is similar to the pool therapy drills that footballers do after their game. It involves water physio and for me swimming because my physio thought they might as well keep me fit as I'm doing all their drills with ease now. It's something different that I've enjoyed. My butterfly and freestyle might get me a gig at the next Olympics. Ha-ha after class I just have a shower and rest in my room. It's pretty quiet and very boring at times but I'm glad it's all over after today. Thanks Jake Noonan
Sent from my iPad