UPDATE FROM JACK TURNBULL ON VARENNA MISS
Apr 12, 2012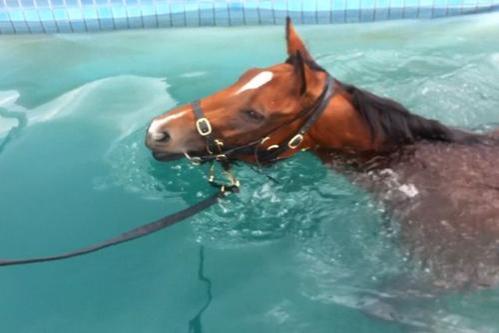 Varenna Miss has continued to excel here at Rosehill in preparation for what now is her race the Group 1 - $1,000,000, 1200M-Darley T J Smith stakes, on the 14th of April at Randwick.
Since her trial she enjoyed a pretty relaxing 8 days, she swam regularly in the straight 70M pool and had a trot and canter on the Rosehill training track.
Varenna Miss has held her condition really well, dropping only 7 odd kilograms after her trial and a number of gallops. At this point in time she stands at 551kg on the 11/4/2012.
Luckily enough for me over the weekend I enjoyed a little taste of Group 1 success when I strapped for Peter Moody. I strapped Huegill in the George Ryder but earlier on in the day Peter had Manighar win the BMW. Having Varenna Miss situated right beside his boxes I have come to work pretty closely with his horses and staff.
Recently Tony made his way up to Sydney to inspect yearlings and coincidently in time to put the finishing touches on Varenna Miss before her first up run. Tony came up on the Saturday night and on the Sunday and Monday invited me out to Newmarket to inspect a number of yearlings with him. Over those few days we looked at a number of yearlings including a HenrytheNavigator colt out of a full sister to Mica's pride, Varenna Miss's dam- lot 292.
Finally in readiness for Saturday, Varenna Miss galloped on the course proper on Tuesday at Rosehill in company. They worked over 800m coming home strongly the last 600m- last 400 was clocked at 25s flat. The horse she worked with is a Rock of Gibraltar gelding of Tim Martins called Pampelonne, who recently won at Rosehill by 3 lengths. Varenna Miss had the gelding convincingly covered while working which was a good and reassuring sign in the lead up to her run. Megan the track rider mentioned "She felt great and she had a whole lot of horse left underneath her".

Jack Turnbull.