Annarbor caps off fairytale campaign with gallant 2nd in Moe Cup
Oct 18, 2019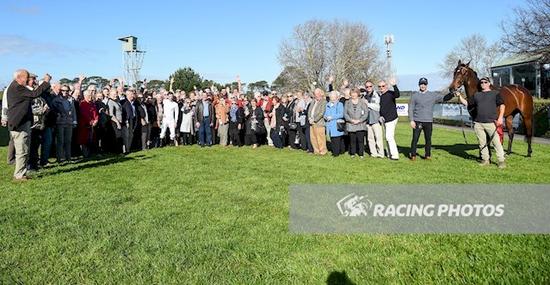 For more than 250 owners of Annarbor, the last six months have been a wild dream full of champagne, laughter and the thrill of a lifetime. But getting to this point has been a remarkable journey where plaudits would have scoffed at the idea of Annarbor running 2nd in yesterday's Moe Cup if you'd asked them 12 months ago.
In November 2018, 4-year-old mare Annarbor had just finished her second racing campaign with a very modest formline having earned $5,335 in 7 career starts. Her best performance at the time being a 4th place at Geelong which earned her $1,170 when beaten 3.25L.
Fast-forward 12 months and she has just completed her third racing campaign with 9 starts earning a staggering $141,240 which included four wins and two runner-up placings, the last of which came in the $150,000 Moe Cup.
But despite all of the champagne which has flowed amongst her dedicated group of supporters, trainer Tony Noonan recalls the long journey here.
"Twelve months ago when she got lapped at Sandown, things certainly didn't look as rosy as they do now," said Noonan.
"I would have understood if a few of the owners wanted to pull the pin considering she hadn't even placed in her first seven starts. But at the same time, we were seeing really good progress from her at home which gave us plenty of encouragement.
"She had always been a bit of a backward filly which is why Phil Campbell (breeder) chose not to put her through the sales ring. Thankfully, I was the beneficiary of that because it meant we got her to train and were able to syndicate her out amongst clients as part of our Social Syndicates program.
"At the end of that prep, her work at home was still excellent so I suggested the Social Syndicates group give her another prep where would have finally overcome the growing pains which impacted her earlier years.
"I've been fortunate that the group has backed us in the whole time without every questioning the mare. To be able to just train the mare for them gives us such a great thrill at the stable.
"For her to then come out and have this incredible prep where we have been able to keep her healthy, I have to give a big thank you to the owners for their patience, and our terrific staff at Greendale who look after her."
With Annarbor progressing from a maiden class galloper to finish her prep running 2nd in the Moe Cup, Noonan now has the task of taming the many owners that he's brought on their journey with Annarbor over the past six months.
Graduating the 5-year-old Excelebration mare to be racing in Saturday class, Noonan is quietly confident that there is still plenty of improvement in her.
"She's been so honest this time around and I think the best is still to come."
"We've been working hard on having her settle in her races and she's shown some terrific versatility to be able to both sit on the speed and come from behind.
"She has a clear affinity to the softer tracks so if we can have her back racing again when the tracks are soft, she will be given every chance to have a crack at some Stakes races next year."
When queried whether she might be a chance for a Melbourne Cup campaign, Noonan joked, "She's raced mostly by retirement villages so I don't want to give anyone a heart attack."
Social Syndicates is an ownership program which Tony Noonan Racing offers to social group and sporting club members who can race a horse with the stable from as little as $20 per month.
For more information about how you can get your group involved with a Social Syndicates horse, please email Gemma Lambe on gemma@tonynoonanracing.com.au.
From 16 career starts, Annarbor boasts a 16-4:2:0 record which has earned connections $146,575.