Vale Gillian Noonan
Sep 13, 2020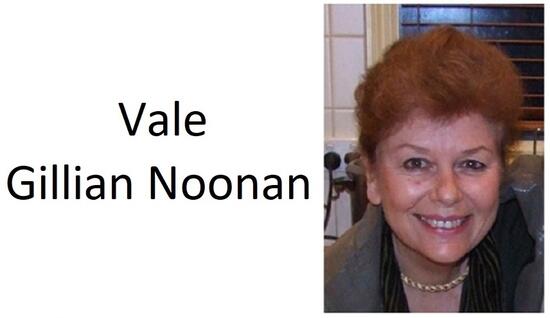 It is with enormous sadness that I share with you the passing of my Stepmother, Gillian Noonan, who passed away on Saturday evening after a long battle with cancer.
Gill has been in my life longer than my birth mother, Patricia, who passed away at the age of 42 after a short battle with cancer. Fortunately for myself and my family, Gill entered our lives and gave everything she had to supporting the Noonan family life.
Many who had met Gill either at the races, overseas tours, Greendale balls or the infamous After Derby Barbie, would remember her for her smile, her energy, her intelligence and her love for people. She was always a 'giver' and loved the opportunity to meet and greet people.
She was a wonderful wife to my father Orm, a loving stepmother to myself, my brother Peter and my sister Jennifer, a loving and encouraging Grandmother to my children Tom, Sam, Jake and Laura and a beaming Great Grandmother to Isaac.
Without her love, support, encouragement and a love for today, I would not be the person I am.
I will love her forever. T
---
On Friday the 18th of September 2020 at 02:00 PM AEST, we will be celebrating the life of Gillian Marie Faye Noonan via a broadcasted webcast.
Please click the link below to view the webcast of this service.
After the service has concluded, you will be able to use the same link to view and download the recording of the service.
Some useful information about viewing the webcast online:
Please do not hesitate to contact Tobin Brothers Funerals on (03) 9373 7000 if you have any questions in regards to viewing the webcast.
If you are having trouble clicking the links then you can copy and paste the link below directly into your browser: